If you are in the market for a class ring, it's a good idea to weigh your options and find the best place to buy a class ring.
The good news?  It's not 1955 anymore.  Which means, you have more options available to you than just the salesman who comes to your school, hawking letterman jackets, yearbooks and the stereotypical brochure full of class rings.
There's this new thing now called the internet.  You should check it out.
And when it comes to buying a class ring, you're more than likely going to find the best price and the best selection at an online store.
But, before we pass judgement, we'll try to offer a better than average review of the different locations you can buy your class ring.  Do we sell class rings?  Yes.  Can this truly be unbiased?  Er, no.  But, we are decent enough people to say, yes there are some good options out there besides our store.  Buuuut … spoiler alert … we think we're the best option because we are the cheapest and uh, coolest.  Yeah, I said it.
We'll take a look at 3 places you can purchase your class ring: In School, Other Online Stores and WearMyStory.com.  The factors you want to weigh when considering your ring purchase are:
Price

Selection
Quality
Convenience
Hopefully, by the end of this, we'll be able to prove to you why WearMyStory.com is the best place to buy a class ring.  Let's go to work.
Here's a look at 3 places to buy your class ring:
1.  In School – Buying your ring from an in school sales representative is the most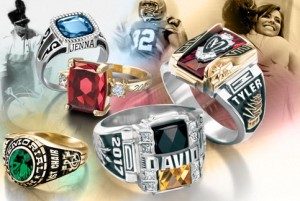 traditional and possibly still the most popular way to buy your ring.  Why?  It's easy.  It's convenient. And, you know you are going to have the same general look in your class ring as your fellow classmates.
The traditional companies that are going to come to your school are Jostens, Balfour and Herff Jones.  All are good companies.  All have been making class rings for a looooong time.  So, you know you are going to get a quality piece of jewelry.  But one problem with buying in school is that your selection is limited to that one company's style of rings.  Also, it's harder to get the best deal on a ring because you can't really compare prices to anyone else.
Generally, the ring sales in school are at the beginning of the new year – in September or October.  Since a lot of students don't wear class rings beyond graduation, the ring companies will generally target the Sophomore class for their ring sales.  Be on the lookout for a school wide assembly or ring presentation from one of these companies when you start your 10th grade year.
2. Online Ring Stores – If for any reason you don't want to buy your ring in school, then it's time to surf the interwebs.  There are a lot of benefits to shopping for your ring online – greater selection, price comparisons, convenience of shopping when and where you want to.
Different websites sell different rings.  Often, these sites are actually retailers of the big 3 ring manufacturers – Jostens, Balfour and Herff Jones.  So, investigate what you are actually buying.  One negative to buying online is having a good feel for the quality of the ring.  Whereas you can hold and look over a ring when buying at a school, when buying online, you are basically just looking at some images – many times the images are only art and not even a real – just depictions of the ring.  So, do your research on the website, and make sure you know where the ring is coming from.  Beyond the quality of the ring itself, you may be interested to know if the ring is made in the USA or somewhere else.
A few of the big players in the online ring sales are Joy Jewelers, Zales, Dunham-Mfg, Daniels Jewelers, Limoges, and even Walmart.  You can do your research, but several of these sites sell the same rings.  For example, Joy Jewelers and Zales each sell ArtCarved rings.  ArtCarved is a sister company to Balfour – the parent company is Commemorative Brands Inc.  It's a quality company making the same kind of quality ring you could get in school.
There are certainly advantages to buying online.  Now, it's our turn to prove to you why buying from WearMyStory.com is the best option.
3.  WearMyStory.com – At our site, you have all the advantages you see above from buying online, but we offer what no one else can offer – a FREE class ring!  Yeah, free as in freeeeeeeeeee, that kind of free.   Check out our video that explains it all.
So, if you sign up to become a Ring Rep, you can get a free class ring, unlimited $100 gift cards, and you could even win $10,000!  Yes, this is for real.  And, it's free to sign up.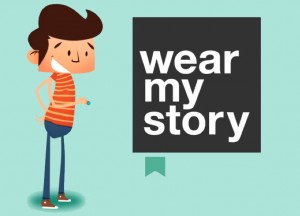 And even if you don't think you can get 5 referrals, you get $40 off your class ring with the first referral.  All of the sudden, that sales guy coming to your school in the fall is now your best friend.  While he is drumming up interest and demand from all of your classmates, you can offer them a better price AND a discount, while racking up rewards for yourself.  Check out our previous post on the top 10 tips to get referrals.
Not only do we have a contest, but compare our prices to Jostens, and you'll see that you will save literally $100s of dollars on virtually the same ring.  And compared to the other online stores, we offer the cheapest rings.  If you find the same ring at another site beating our price, let us know.  We'll beat it.  We're all about saving you money!
And even if you don't want to sign up to be a Ring Rep, use coupon code 55OFF300 at checkout to save $55 off any ring over $300.  That's easy money.
So, with WearMyStory.com, you get the quality of ArtCarved rings, great selection, and unbeatable prices.  Oh yeah, and you could win 10 large.  You won't find cheaper rings, the ability to earn a free ring, or put some $100 gift cards in your pockets anywhere else.
Case closed.
So, let's recap.  There are plenty of places you CAN buy your class ring.  But where is the BEST place to buy a class ring?  We think that to get a high quality ring (from ArtCarved) and save the most amount of money, if not get your ring for free, the choice is a no brainer.
So, what do you think?  Leave a comment below and let us know if you think we're the best place to buy a class ring.
The Best Place to Buy a Class Ring – Quality, Selection & Price