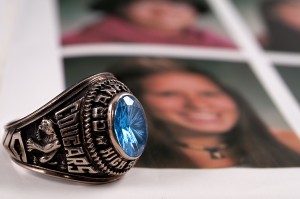 Are you a parent looking for that perfect high school graduation gift idea for him or her?  Want something that will be a loving keepsake for the rest of their life and will commemorate their achievement and graduation milestone?  Want to be able to find an affordable graduation gift that won't break the bank?  Do I sound a little bit like a used car salesman???  Yes, I do.  Sorry!
But, here's the deal.  You can get your cherished young man or woman a FREE graduation ring from WearMyStory.com.  Sound too good to be true?  It's not.  Watch this 90 second video.
Get the idea?  So, you may not care about winning $10,000 (or maybe you do want some extra cash.  If so, contact us about becoming an affiliate), but if you are a parent looking for a graduation gift on the cheap, what's cheaper than free?  It's this simple.  Either you or your student can sign up to be a Ring Rep.  You get a referral link.  Find 5 other people looking for a discounted graduation ring, and voila, you have a $200 credit to get your perfect, custom class ring for free.  Not bad, eh?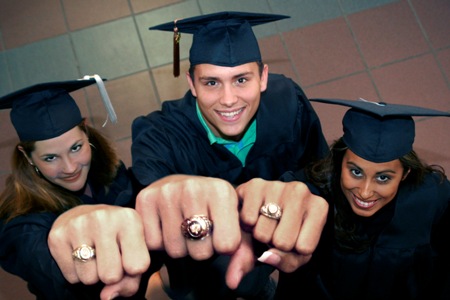 Class rings matter.  They tell a story.  And, they last.  Now, you could go the route of iPhone 5, iPad mini, or some other tech gift, and no doubt, your son or daughter will probably love you for it.  That is, for about 2 weeks when the technology becomes obsolete and they want the iPhone 6.  Grrrr.  If you are a parent or a loved one who has given tech gifts, you know the feeling.  You just shelled out hundreds of dollars for something that is now useless to them.  So, frustrating.  But, it can be avoided.
Now, let's apply the gift duration test to a class ring.  Any new technology coming out that's going to render the graduation ring useless?  Not really.  We're talking gold, personally engraved, unique, one-of-a-kind rings here that last for … forever.  Nothing really new has happened to the class ring industry in a 100 years (except for our killer Ring Rep Challenge), so you know the gift can be cherished for years and years.  Let's face it.  That's a pretty good ROI on your gift dollar.
Now, it's true.  Your student may not wear that ring every day for the rest of their life.  But,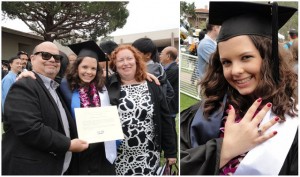 it's not really meant for that, is it?  No.  The graduation ring is a symbol.  It's a symbol of accomplishment.  It's a symbol of a special time period in life ~ high school!  It's something to help you remember those care free, crazy and fun times you had with your friends.  And every time you pull that ring out, floods of memories come pouring in.  That's a special ability that only certain keepsakes have the power to do.
But, they are even more than that.  For many families, class rings are a tradition.  So, the ring not only links the student to their high school memories, it links them to their parents and loved ones.  It's a special bond within the family.  And beyond looking back, the ring also points to the future.  One day, this young 18 year old boy or girl may get married, may have kids of their own.  And that little baby, then toddler, then kid, then teenager is going to grow up and graduate high school one day.  And on that day, this new parent will wash that child with their tears of pride and joy.  And they'll embrace one another.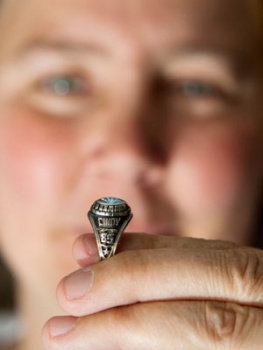 Yeah, it's just a ring.  But, it's not really the ring that matters is it?  It's the story!  We are connected by our stories.  Our stories matter.  And the ring is the best graduation gift I know of to help capture that story.  And help link the past and the future.
So, you could shop for the tech gifts or some other graduation gift idea.  But, what else can help link both the past and the future better, and commemorate this milestone, than a graduation ring?  And where else can you get one for free!  No, this is the best deal going.  At least, that I know of.  If you find a better one, let me know.
Here's to you, your family, and your family's story.  May it be told for generations to come.
High School Graduation Gifts – FREE Class Rings!