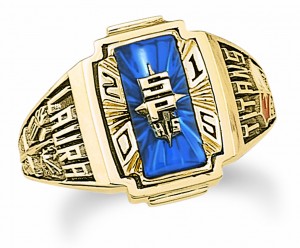 Class rings are awesome.  Most people would agree.  Why?  Besides being a nice piece of shiny bling, they help tell our story.  They help mark a significant moment in our lives – high school.  In an ever increasing digital world, there's a reason why we still print out photographs, cherish trophies, and get souvenirs on a vacation.  We care about commemorating milestones in our lives.  We want a tangible way to remember.  And what other time in our life is more important to remember than our days in high school?
But, here's the problem.  Class rings are expensive.  We get that.  Today, there are a million things fighting for you and your parents' dollar.  There are clothes, movies, gas, car insurance, cell phones, sports, prom, Spring Break and other things that eat at that budget.  Oh, and by the way, there's this little thing called a recession going on.  Money is not exactly growing on trees right now.
But what if you could get your class ring for free? 
Yeah, you heard us.  Free.  And not only that, you can also earn $1,000's of dollars in gift cards, and even WIN a grand prize of $10,000!!!  Check out the details.
Class rings are a tradition that go back over 100 years.  But, WearMyStory.com is the first to offer them for free to students all around the nation.  We think that traditions matter.  So, we wanted to create a way for anyone who wants a class ring to get one.  And while you are at it, earn some other rewards and have a little friendly competition at the same time.
Find out all the details here.
Free Class Ring at WearMyStory.com